The vision.
Create an ecosystem of resources for men to be confident in their skin.
An honest battle.
Damon, founder of douxds, felt that the skin care industry left him in the dust at a young age. Experiencing acne and dark marks for 13 years he could never find products that worked for his skin. Eventually he said f*ck it and took matters into his own hands.
Built from scratch.
After $1,000,000 of product development working with customers, estheticians and engineers, he developed a no B.S. solution to common skin issues men face. In June 2020 he decided to offer the system to men across the world.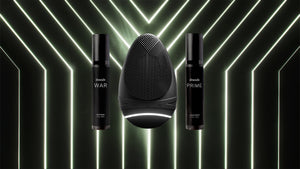 Simple. effective. results.