The art and science of performance skincare.
We created the first men's skincare tool designed to get you clearer and smoother skin instantly with results to last a lifetime.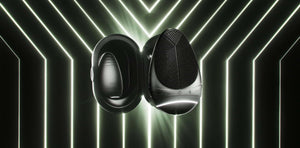 Full Digital User Guide for FLEX™
Here's the method.
1. Power
Turn FLEX™ on with the central power button. The light on FLEX™'s base will illuminate white which means your device is on. When FLEX™ needs to charge, this light will turn red. Select your vibration speeds with the plus and minus buttons. There are speeds for general cleansing and deeper cleansing experience.
2. Charge
FLEX™ comes with a wireless charging case powered by a USB-3 to USB-C cord. This case features a 3x magnifying mirror for spot checks and a drain duct to ensure any and all water is removed. To activate charging, simply place FLEX™ in the case, connect a power source, and leave to charge for 3 hours.
3. Sanitize
While FLEX™ is charging, for 30 minutes, the UVC lights on FLEX™ will activate and reflect on the mirror within the case. These safe, UVC lights are proven to eliminate 99.9% of bacteria and viruses. Stay reassured that your case and brush are clean every time with the self-sanitization functionality.
Technical Details
Product:
Materials: ABS Plastic + Silicone
Speed Levels: 5 levels 3100 RPM/Min, 3600 RPM/Min, 5100 RPM/Min, 7200 RPM/Min, 8000 RPM/Min
Body LED lights: White, Red, Purple (UVC)
Case lights: Red, Green
Unit Size: 111.5 x 69.8 x 36.5MM
Power: ≤0.45w Running time: 5 hours Charging time: 3 hours Battery Capacity: 450mah
Charging Type: USB-C
Clinical Studies: 
Caberlotto, E., Ruiz, L., Miller, Z., Poletti, M., & Tadlock, L. (2017). Effects of a skin-massaging device on the ex-vivo expression of human dermis proteins and in-vivo facial wrinkles. PloS one, 12(3), e0172624. 
Akridge, R. E., & Pilcher, K. A. (2006). Development of sonic technology for the daily cleansing of the skin. Journal of cosmetic dermatology, 5(2), 181–183.